2008 Eastbound Panama Canal Cruise
We stopped in Aruba where we met several of my cousins "diVecchia" - the original Italian spelling of my name. A distant cousin moved there in the 1930's from Italy. He had 6 kids and those kids had kids so there are a lot of my cousins there.
From Sally's trip log:
19 Dec 08 We lost another hour last night as the clocks were set ahead for the 4th time since we left San Diego. This morning was the first time I was experiencing some motion sickness since the first day of adjustment. The water on the Caribbean was rougher than the Pacific due to heavier winds. Mark and I went and listened to the "History Man", Michael Millwood from England (now living in Arkansas), speaking more on the history of the Panama Canal. We stayed in the Queen's Lounge after his talk to see the live show "Love Songs from Broadway" that had been interrupted by technical difficulties last week. I still wasn't feeling too well. In the evening, I took a bath in the jet tub while Mark went to a couple of events.
20 Dec 08 Our ship docked in Oranjestad, Aruba. I was feeling better today, knowing we were going to be on solid ground. Mark had arranged for us to be met by one of his distant cousins on the "diVecchia" side of the family. Mito and his wife, Sandra, picked us up at the pier. Besides driving us all over the island and showing us the sights, they took us to Mito's parent's house. They were all related to Mark in some way. The people of Aruba speak four languages; Papiamento, Dutch (school is taught in Dutch), Spanish (Venezuela is just a few miles across the sea) and English. I was very impressed. Some of Mito's relatives understood Spanish better than English, so I was able to practice my Spanish with them. That night when we were back on the ship, they had a special dinner for only deck 7 passengers with the Captain and the other officers. The dinner lasted from 7:30 until 10:00. We sat with the manager of the hotel services. The meal was wonderful, beginning with wine, hors d'oeuvres, yummy clam chowder, then a chicken caesar salad (I ate around the chicken), main course: steak and lobster. I ate all the lobster and even some of the steak (not to be rude), and it did melt in my mouth. Dessert was not chocolate, so I ate it all. They served after dinner chocolates, which we could ignore as were so full. We enjoyed talking with the hotel manager; he was Dutch but now lives in South Africa. The waters were still rough, but I have again adjusted.
---
When we woke up in the morning, the ship was not moving so I knew were were docked at Aruba. I went to the window and looked out. Aruba was much smaller than I imagined.

Then I realized that I was looking out the wrong side of the ship. I dressed, climbed a few decks and looked out the other side of the ship.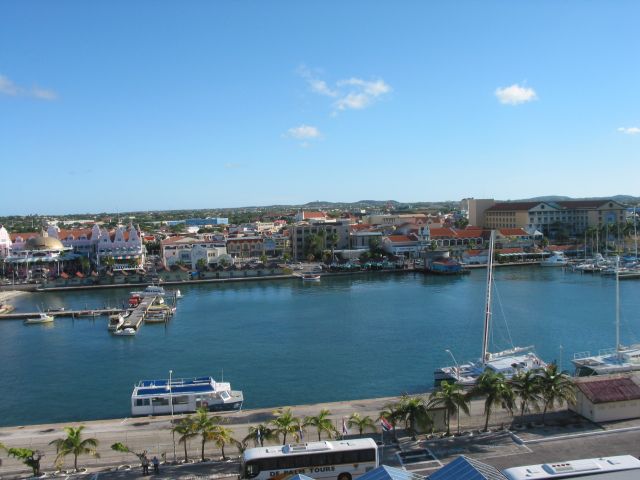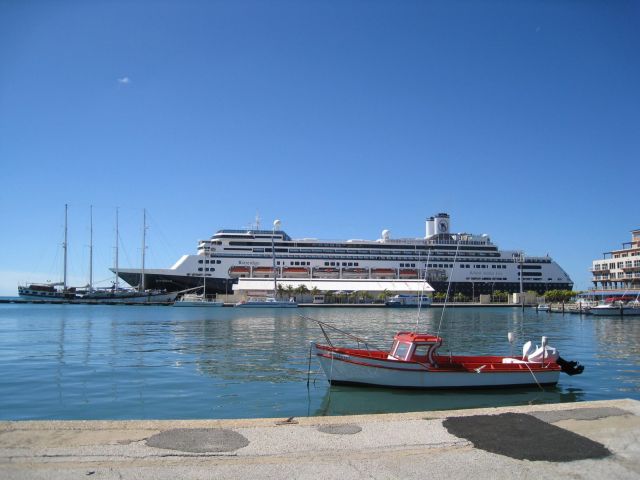 Photo by John
This is our ship, the Rotterdam, docked at Aruba.

Beautiful Beaches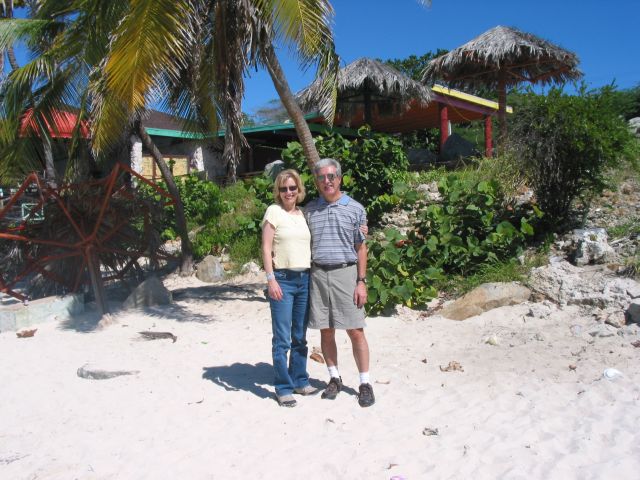 Here we are at the beach. The photo was taken by Mito.

My cousins, Mito and Sandra Arends.
Mito is a real estate agent. He works for Associated Realtors.
Mito speaks very good English.

A bunch of kids playing in the water.

This is snack shop owned by the niece of Sandra.

A pet cemetery near the beach.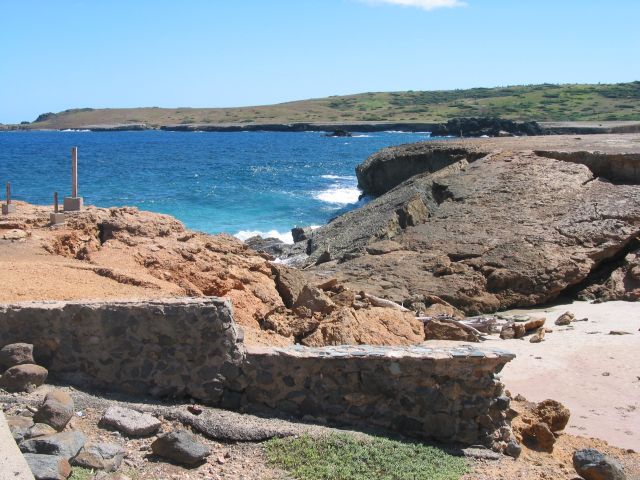 This is (or was) a famous Natural Bridge on Aruba. It collapsed in 2005.

This is called Baby Bridge - its also a natural bridge but smaller than the original.

This was the original house of Domenico diVecchia. Domenico moved to Aruba from Italy about 1930 and settled there.
He married a local woman and had six children.

Here are Mito's parents: Guillermo Arends and Eufemia diVecchia. Eufemia is the oldest child of Domenico.

In the middle are two more children of Domenico, Gertruda and Francisca.
At Francisca's house, we met Mito and Sandra's daughter, Jerrilyn. We did not get to meet their son, Jeremy.

Domenico diVecchia and first child, Eufemia.
Domenico was born in 1901 in Sant'Eufemia a Maiella, Italy and he died in 1975.
Domenico's brother, Antonio, settled in the Old Forge, PA area. I am trying to get in touch with those cousins.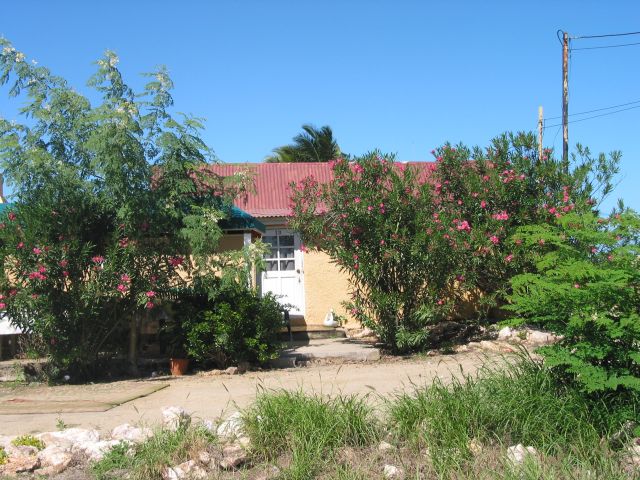 This is the house where Mito's father lived as a child.

Home of Guillermo and Eufemia diVecchia Arends.

Home of Francisca diVecchia Martijn. This house is next door to the house of Mito's parents.

Mito, Sandra and Mark

Domenico diVecchia and his wife.

Eugenio diVecchia, his daughter, Evelyne, and his granddaughter, Maryangela.
He is the father of Giovanni diVecchia. I have also emailed Giovanni.
He was not home when we were in Aruba. He was spending a week at his time-share in Florida.


Eugenio had this on his wall.

Eugenio's parrot.

This is a house built by Giovanni diVecchia.
His development company is Vecchia Estates.

More homes built by Giovanni's company.

Sea

Hotel Row on Aruba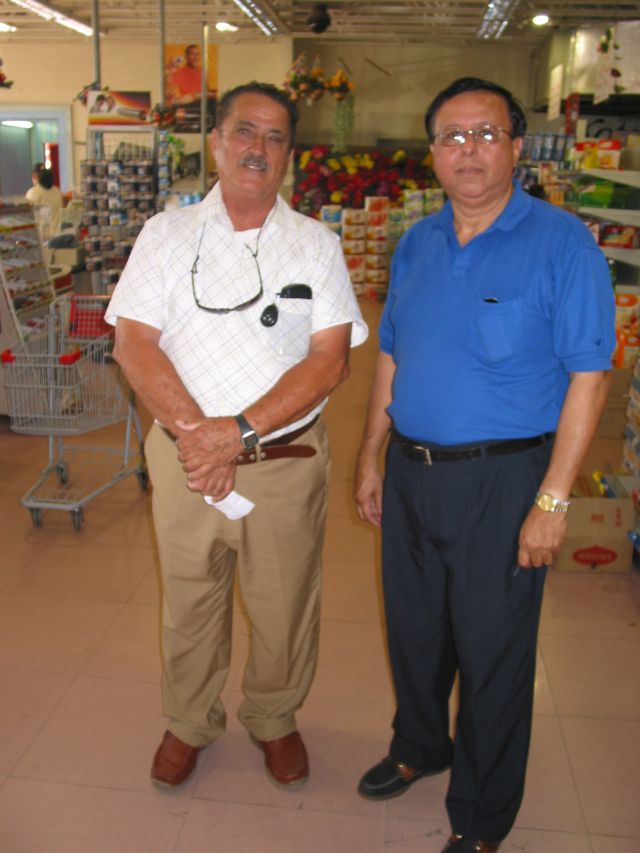 Canicio diVecchia and Mito. Canicio is another child of Domenico diVecchia.
We met 5 of Domenico's children. The sixth, Antonio, passed away.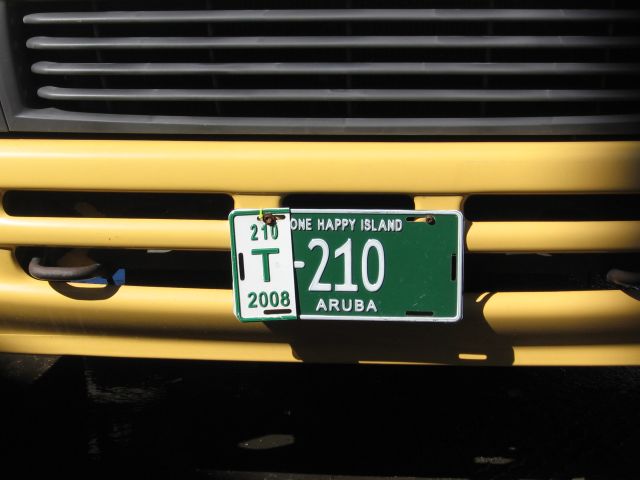 Aruba License Plate
We had a great time with Mito and Sandra. We got a personal tour of Aruba and we got to meet cousins.

I took this photo for my sister Diane. She is an avid Steelers fan. On board the ship, we got about a half dozen TV channels via satellite. The Steelers lost this game.
Back on board, that evening, we attended a dinner with the ship's crew. It was held around the Lido pool.

This is Ren, the concierge for our deck. She helped with everything and she could fix almost any problem.

The Lido Pool area setup for the Captain's Dinner.

The Lido Pool area setup for the Captain's Dinner.

Sally and the Captain, Rik Krombeen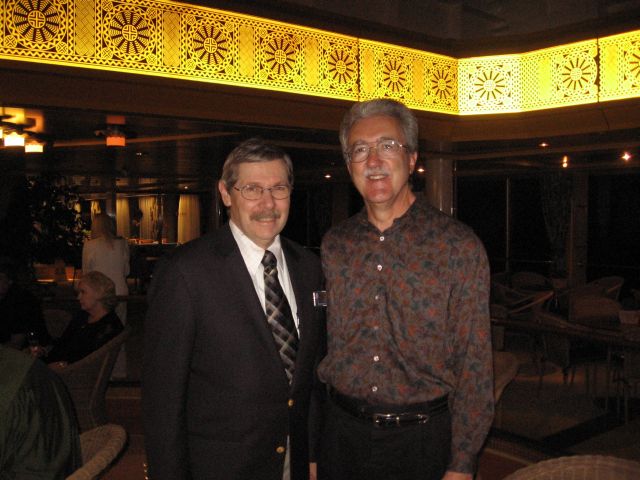 Mark and the ship's doctor, Bruce Staeheli. Bruce is a USNR-Retired Captain.. He spent a winter at the Amundsen-Scott South Pole Station.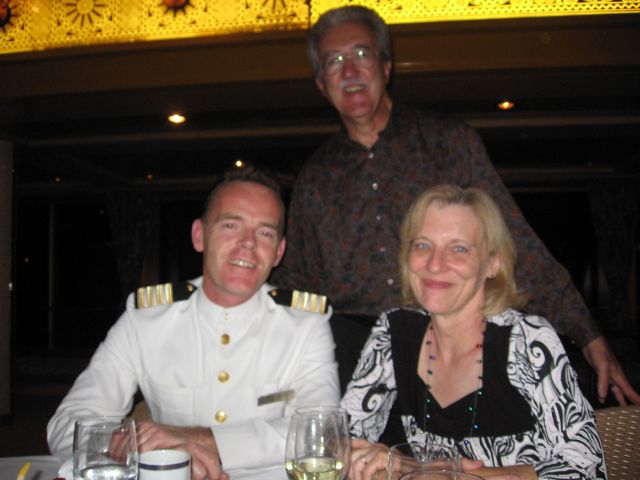 Mark and Sally with the Hotel Manager, Bert Van Mackelenbergh. He was responsible for what is really a floating hotel - rooms, restaurants, bars, entertainment. In the past, a person with his duties would often be called the Purser.

Our Table

Towel Animal
Go to Dec 21-22 Sea Days and Dec 23 Fort Lauderdale
---
This site prepared and maintained by Mark DiVecchio

email : markd@silogic.com

DiVecchio HOME
Frazzini HOME
Site HOME
---