There goes my bicycle riding group now -
TTBikers
.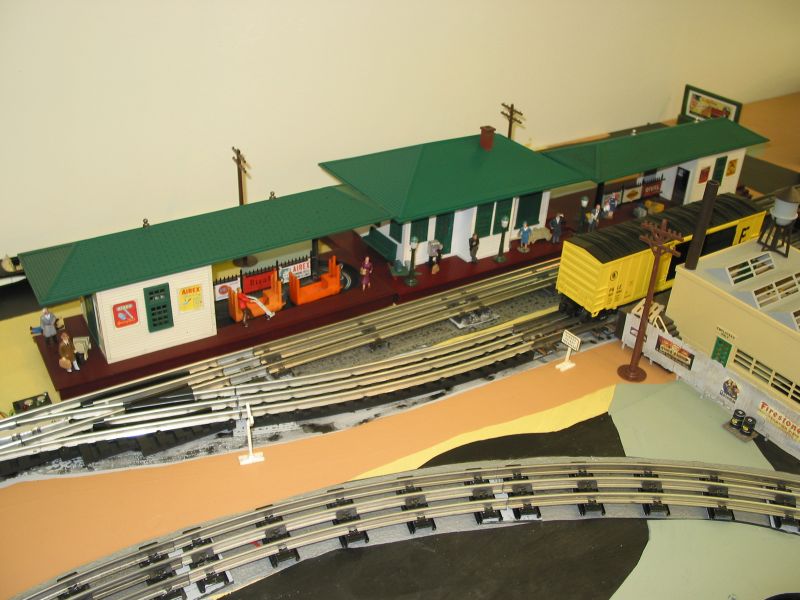 The main train station.
Across the track is the local factory. P&LE box car being unloaded.
The town.
Bank, fire station, police station, school, postoffice, supermarket, apartment building, church, gas station and diner.
The Farm and the Farmer's Market.
In Western Pennsylvania today, we don't have oil wells anymore but now its fracking natural gas wells.
On the siding is an A&S train transporting J&L slag to the dump.
The local gas station, next door to the supermarket.
Over the previous year, the population of my layout has exploded.
---
2014
It underwent a few more tweeks. The sidings in the lower middle and inside of the balloon track were expanded. A staging yard was added on the left.
(As my thoughts about the layout developed. I realized the need for staging tracks. This is for when I actually try operation.)
RR-Track Version 28, 12 Feb 2014
The workbench is now partially underneath the layout.
Here are some photos as the staging tracks were built. You will notice that I added some sky blue paint and cloulds (and a few mountains). Painted directly on the walls.
So here is the final view of the new staging yard.
A trick I learned from Model Railroader, I added a road overpass at the yard entrance to make a clean break.
I changed the arrangement of the balloon track and added sidings.
All of the track going into the new staging yard is 054 or 072 so that all of my engines can be staged.
The actual balloon track still uses 022 switches and one O31 curved track so only shorter engines can actually turn on the balloon.
Here is an overview of the layout as of Feb 2014.
You get a good view of the sky and clouds in this shot.
---
2017
These photos were taken by my wife Sally in December of 2017 to make me a calendar as a Christmas gift.

Overview of the layout

Another view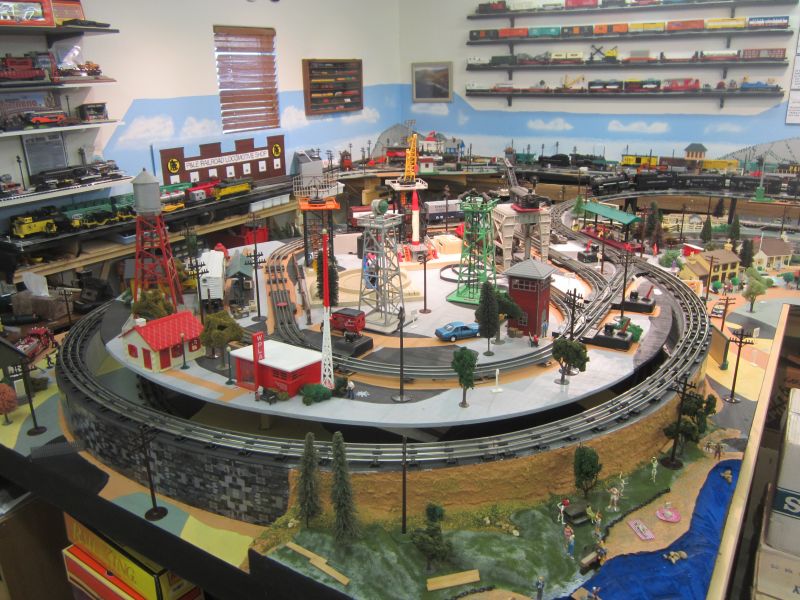 Yet another view

Fire!

Workers

Residential area

Jones & Laughlin Steel Corp Tank Cars
P&LE McKees Rocks Locomotive Shop

Industrial Spur - future home of the J&L Steel Corporation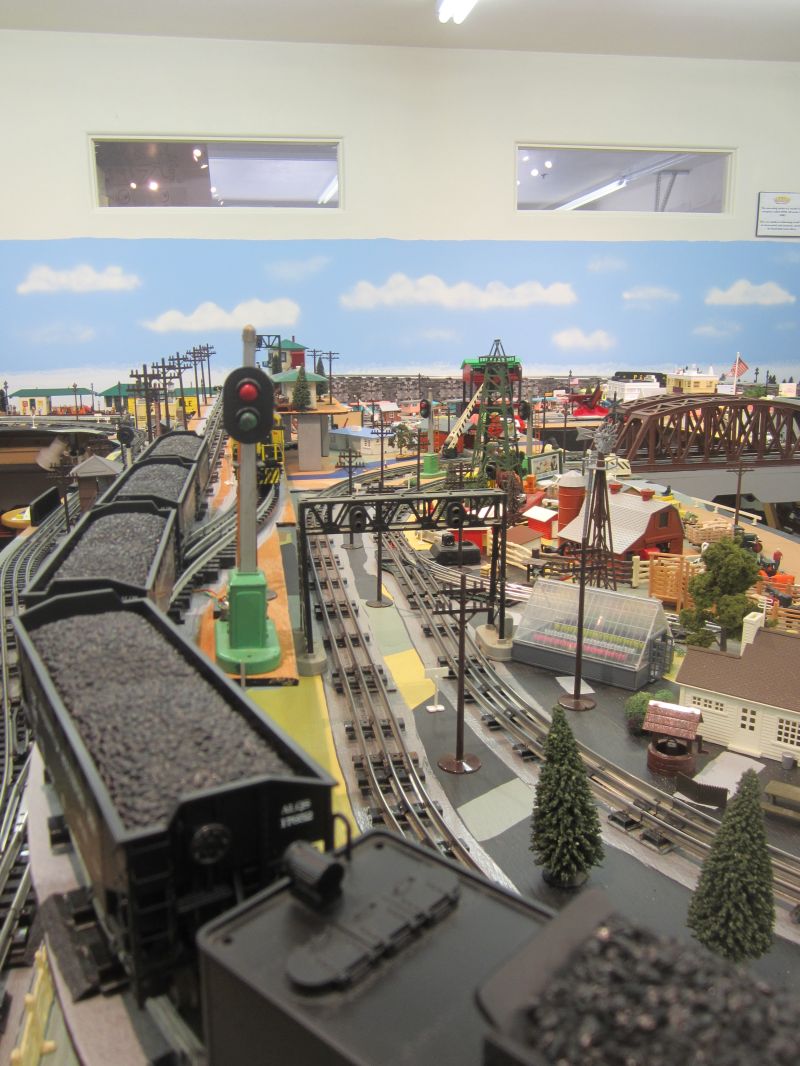 View from above

Workers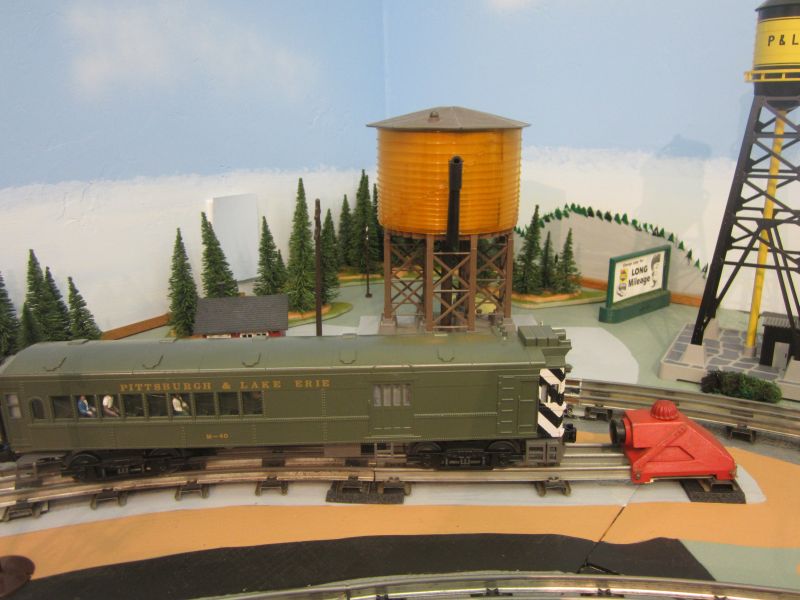 Doodlebug taking a rest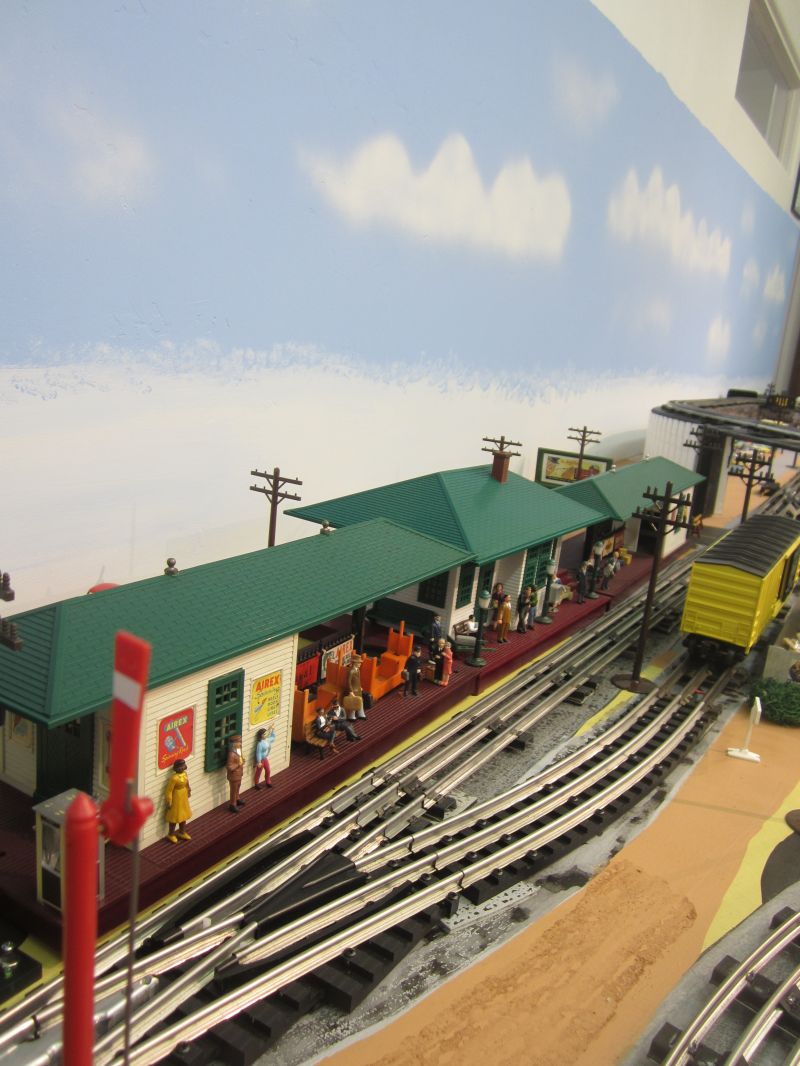 Aliquippa passenger station

Plastic manufacturing ?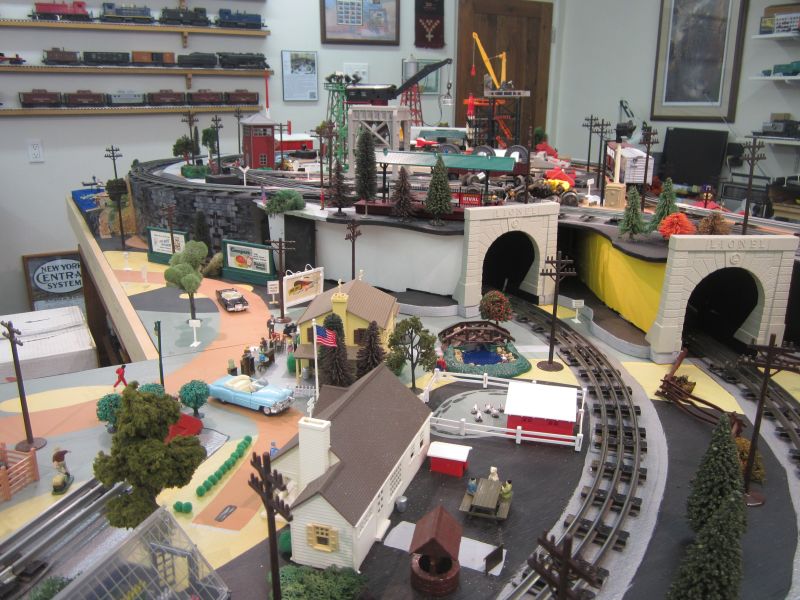 Tunnels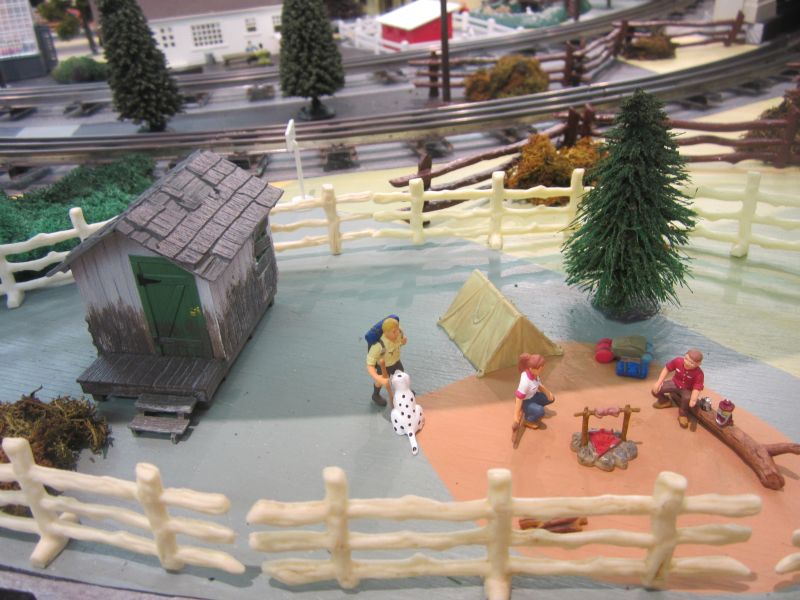 Campers

Raccoon State Park

Fun at the park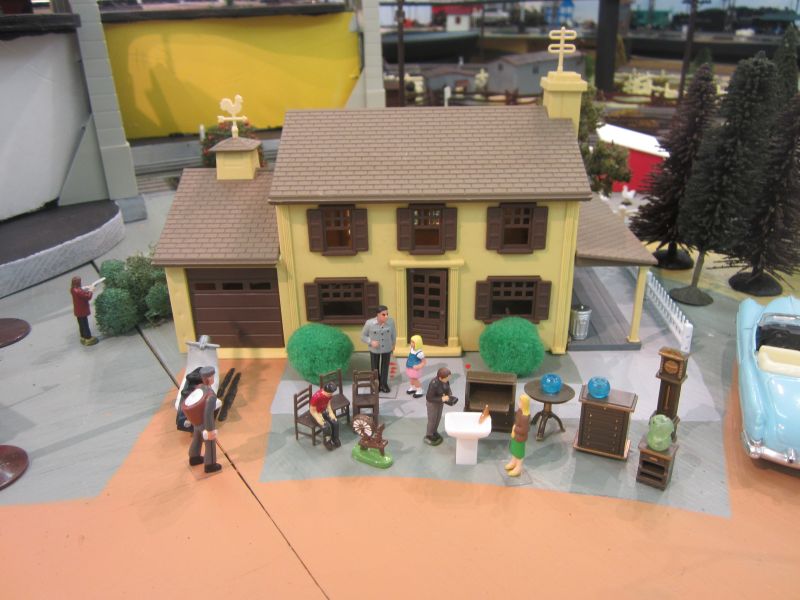 My favorite outing - estate sales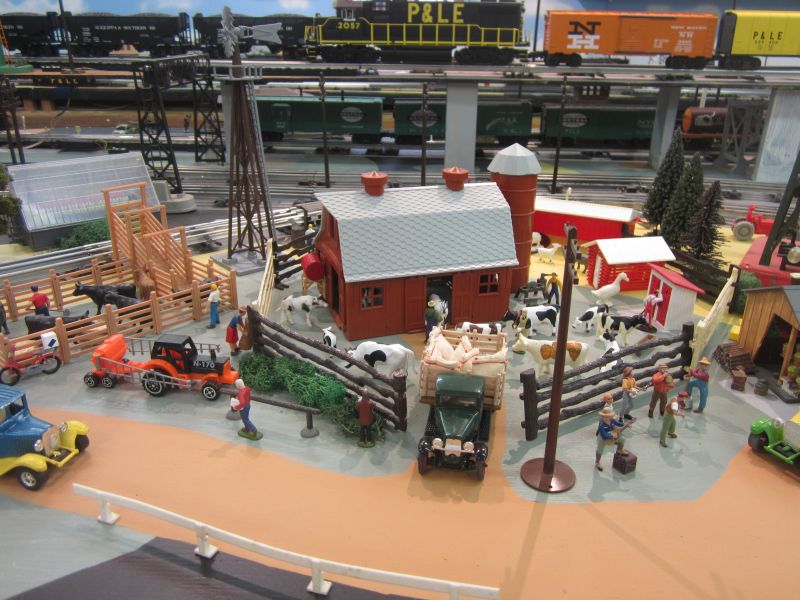 Farm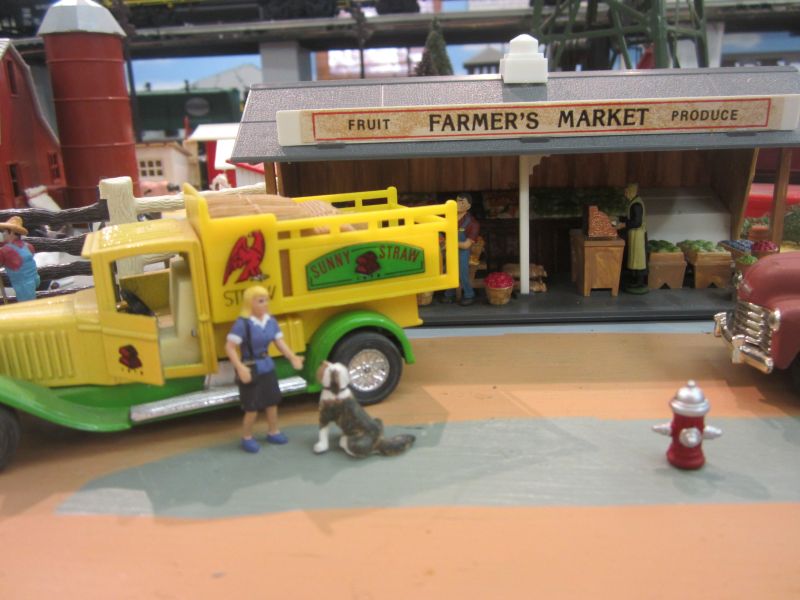 Farmer's Market

Fracking in Western Pennsylvania

Caught in the act

The final station stop on the railway of life.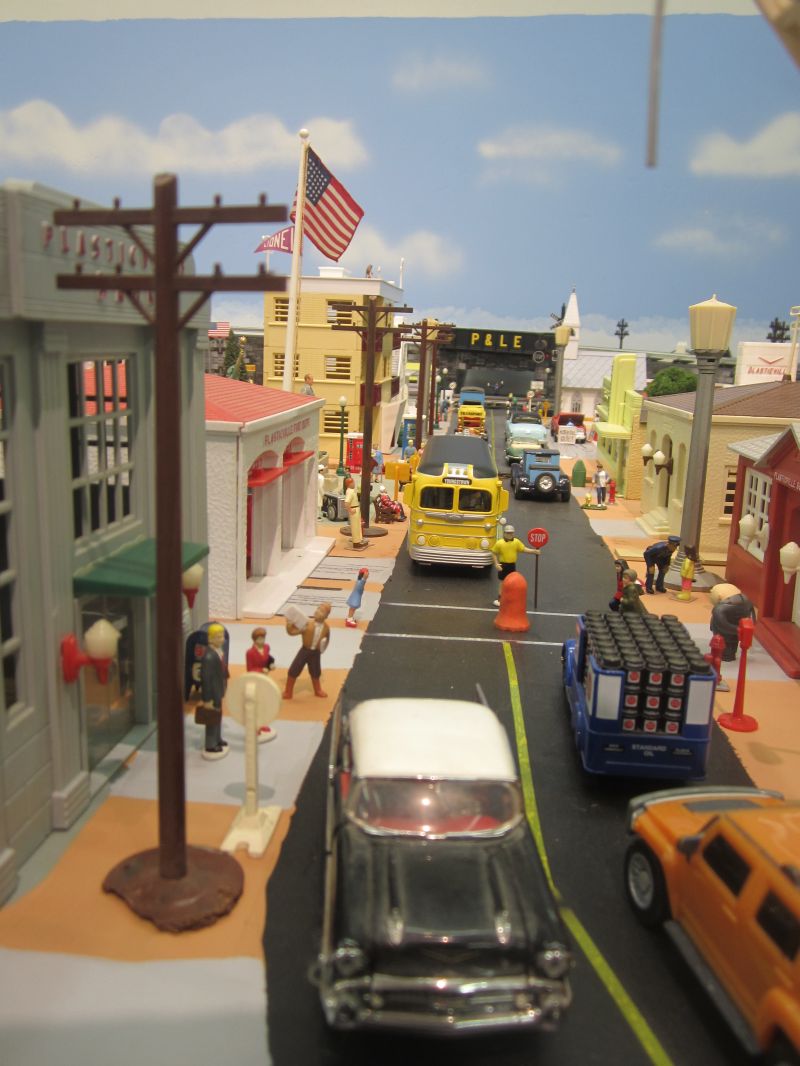 Downtown West Aliquippa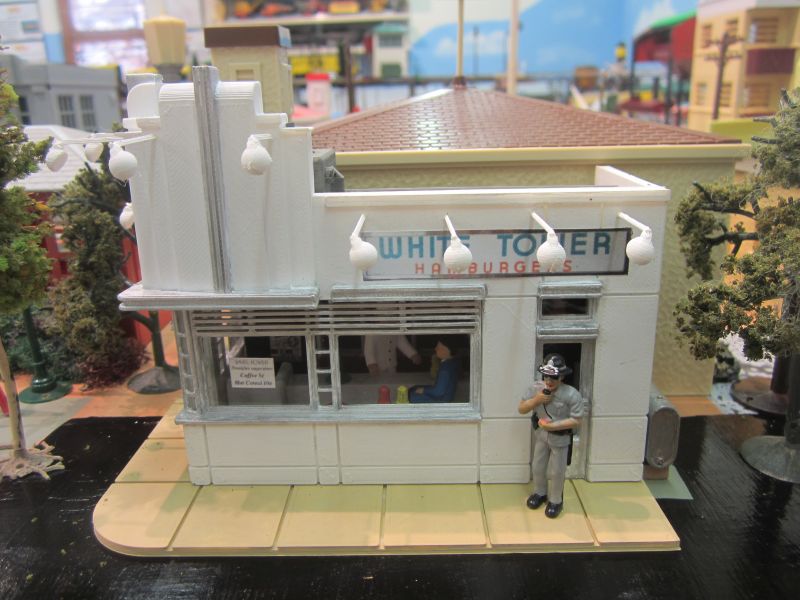 My first major 3D printing project - a White Tower Restaurant

School yard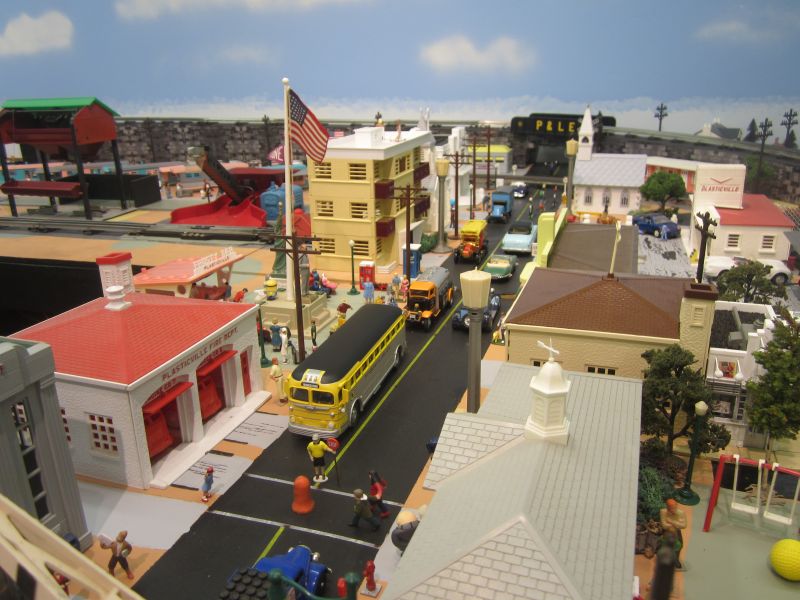 Another view from above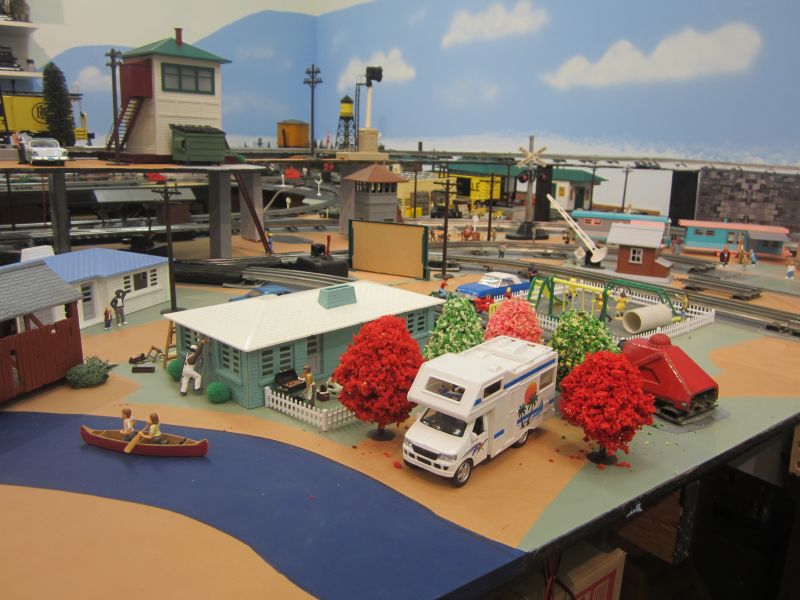 A few homes and a playground

My Homies trailer park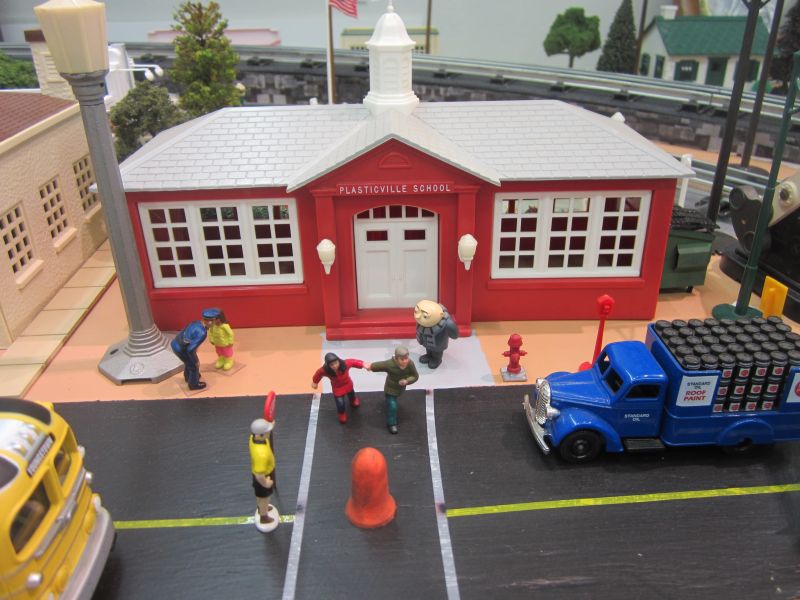 School crossing - Gru is keeping eye on the kids crossing the street

Service station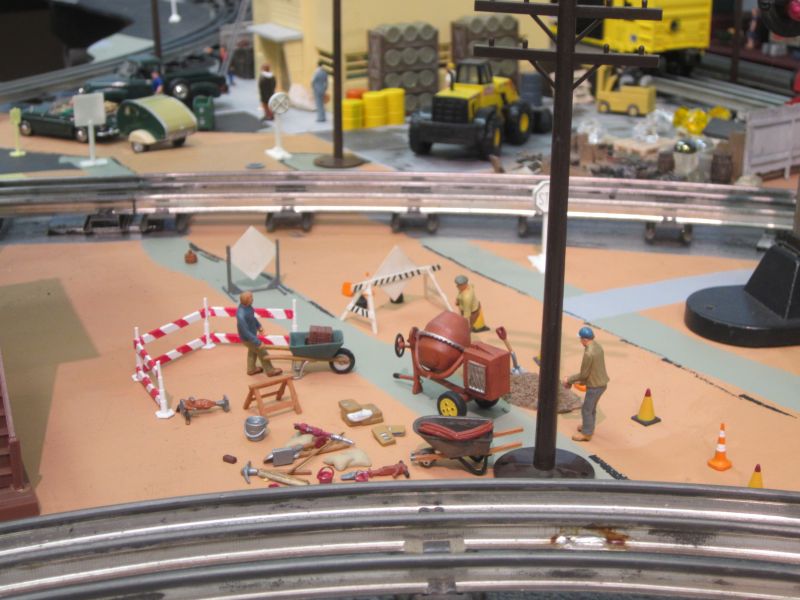 Yet more workers. The area around Western Pennsylvania is sometimes called the Pothole Capital of the World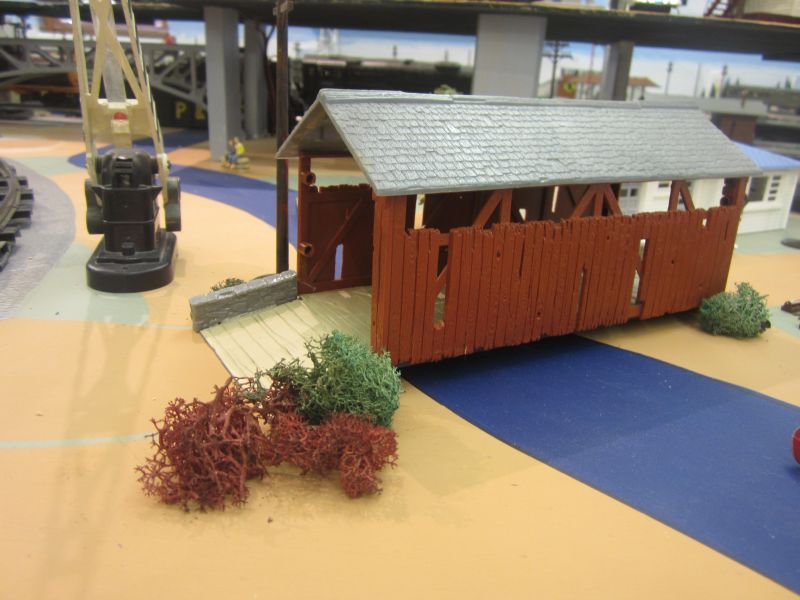 A old covered bridge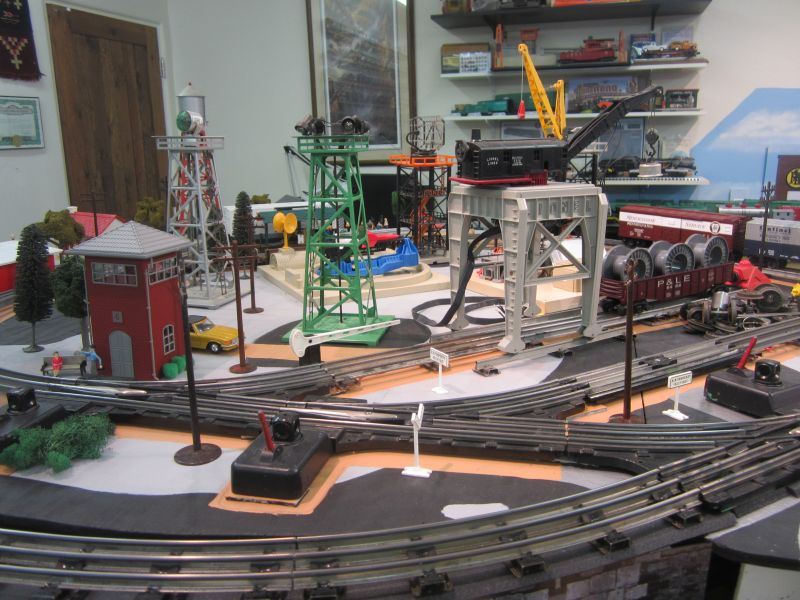 An industrial area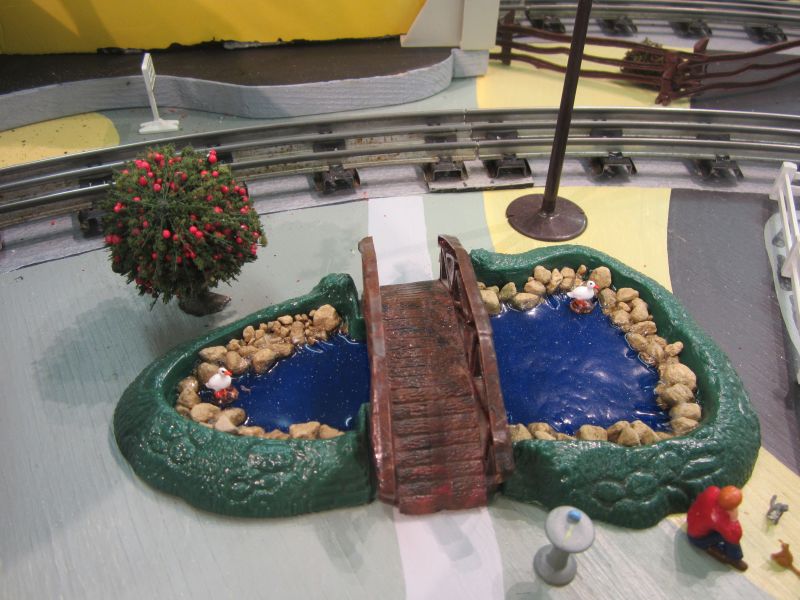 A pond in a backyard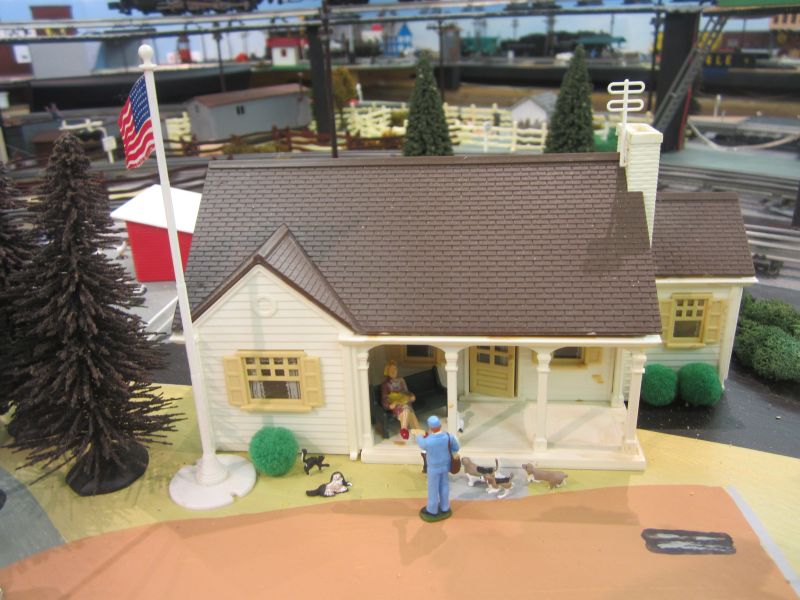 The local cat (and dog) house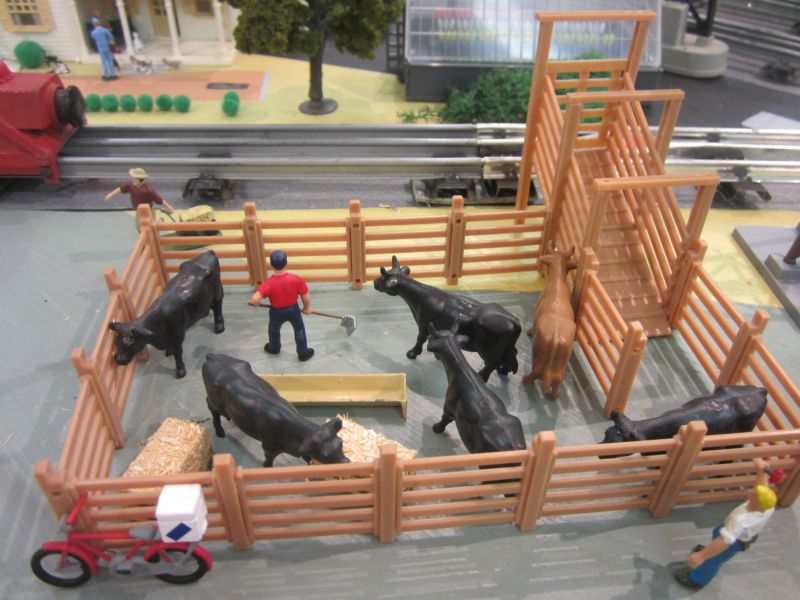 Watering the cattle

Twins milking cows

P&LE GP38-2 #2057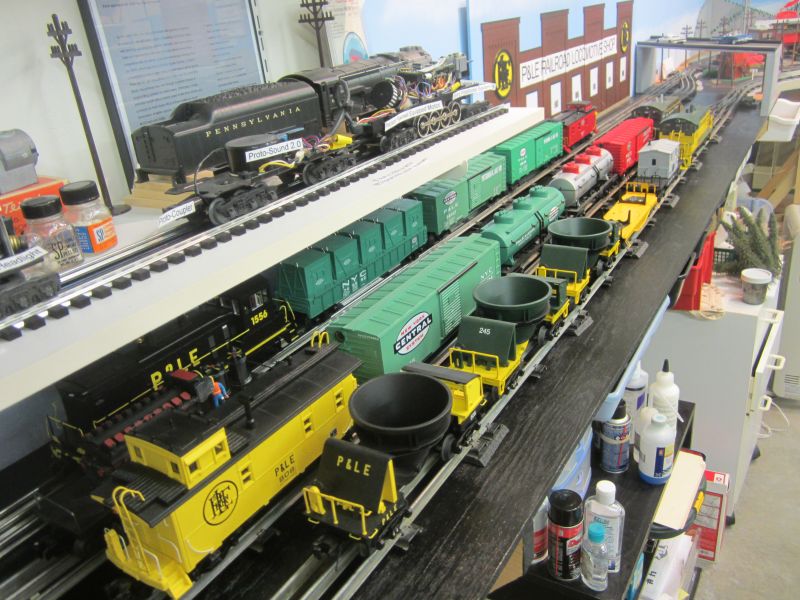 My staging tracks

A&S SW1200 #1208. My grandfather worked for the A&S.

Heinz factory, a Pittsburgh landmark.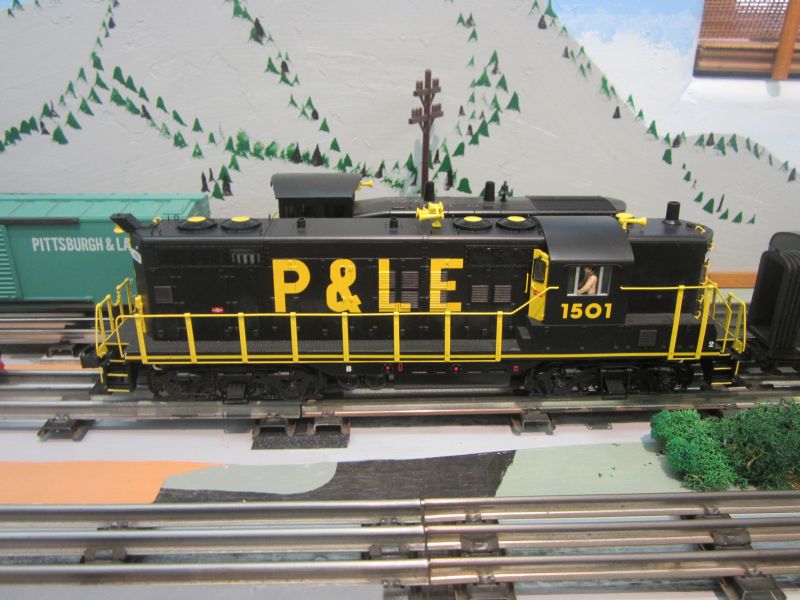 P&LE GP7 #1501. This engine pulled the last scheduled passenger train on the P&LE between College and Pittsburgh.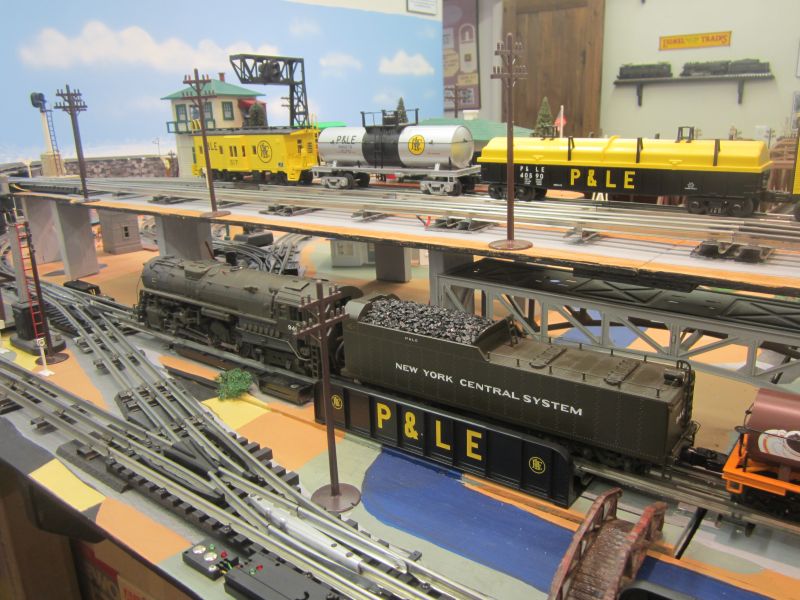 P&LE Berkshire #9401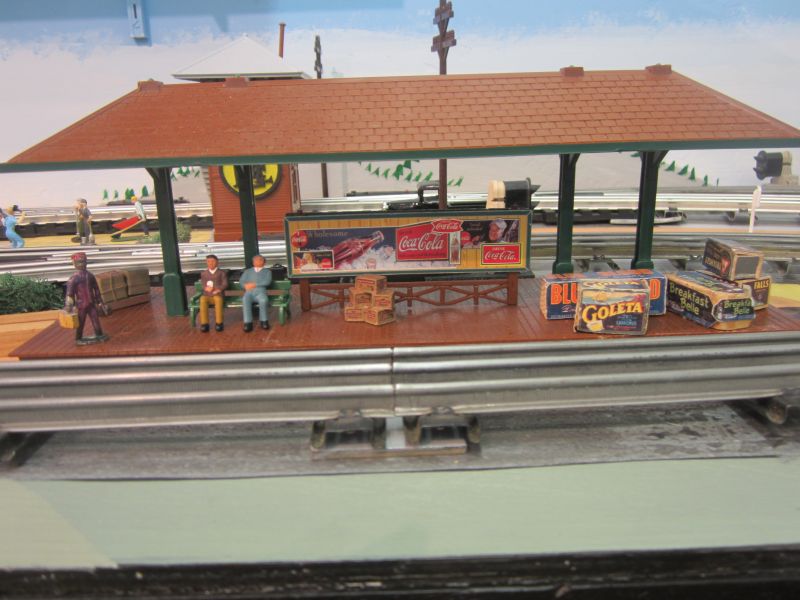 A freight station with a few passengers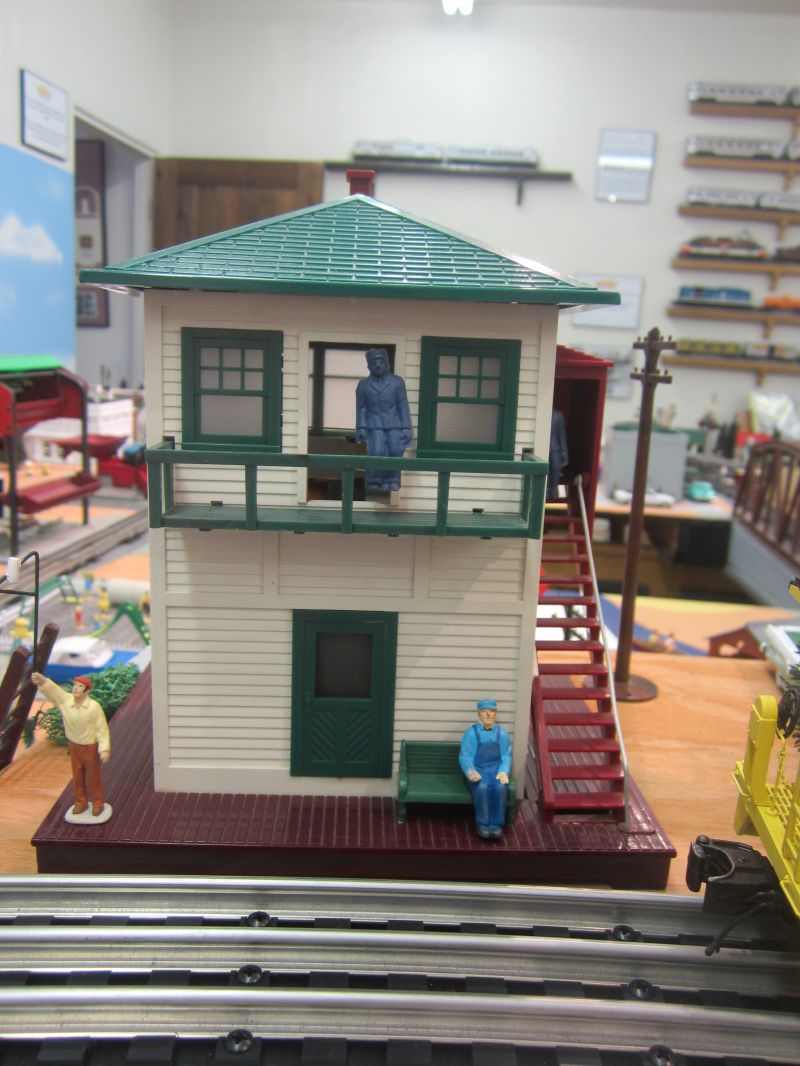 Switching tower workers

P&LE caboose #517

A&S moving coal to the blast furnaces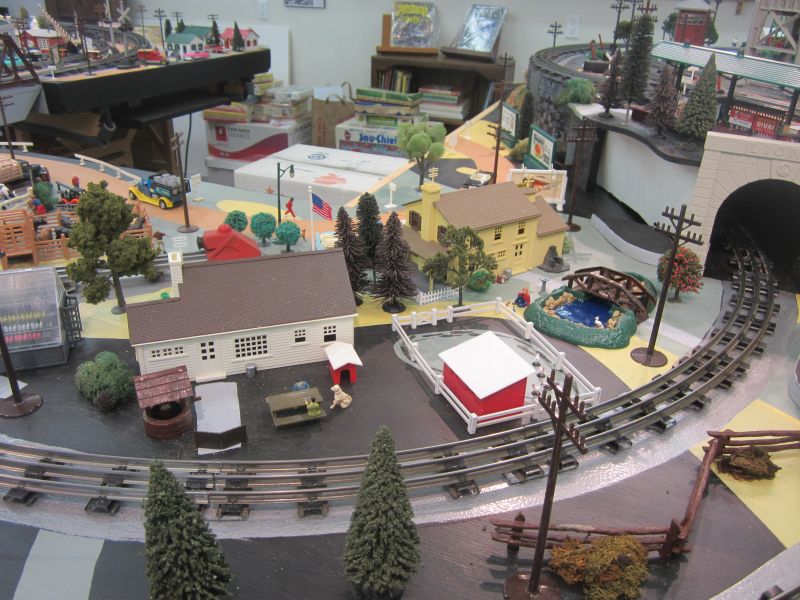 Another view from above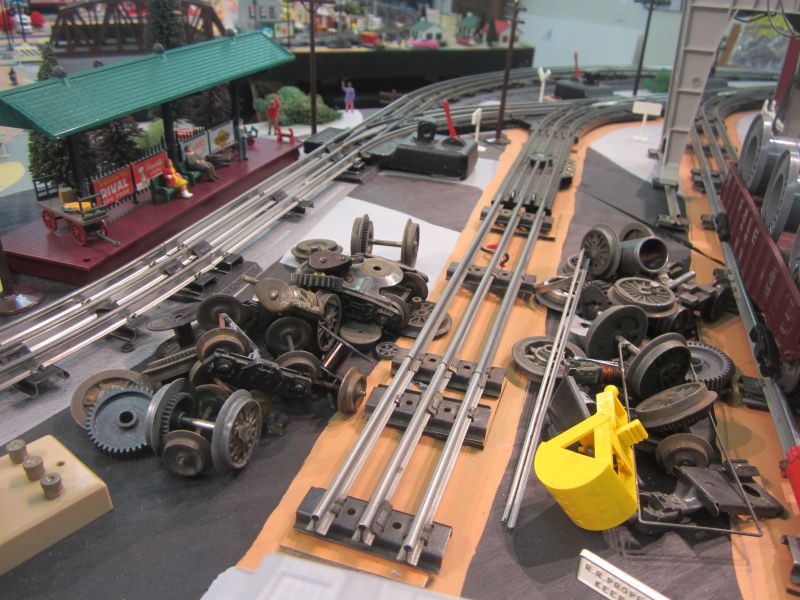 Junque!

Rockets in Western Pennsylvania ????

There were Nike anti-aircraft missile sites around Pittsburgh.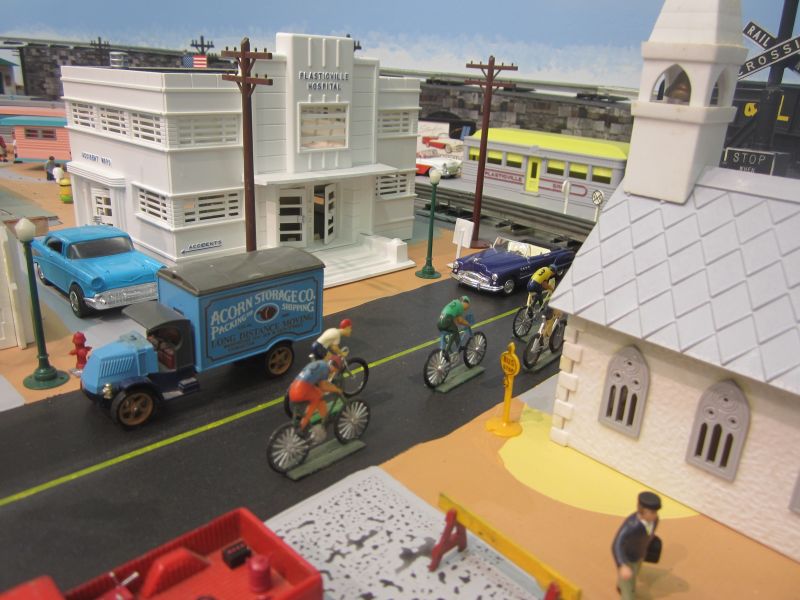 Hospital and Church. That's me on the bicycle.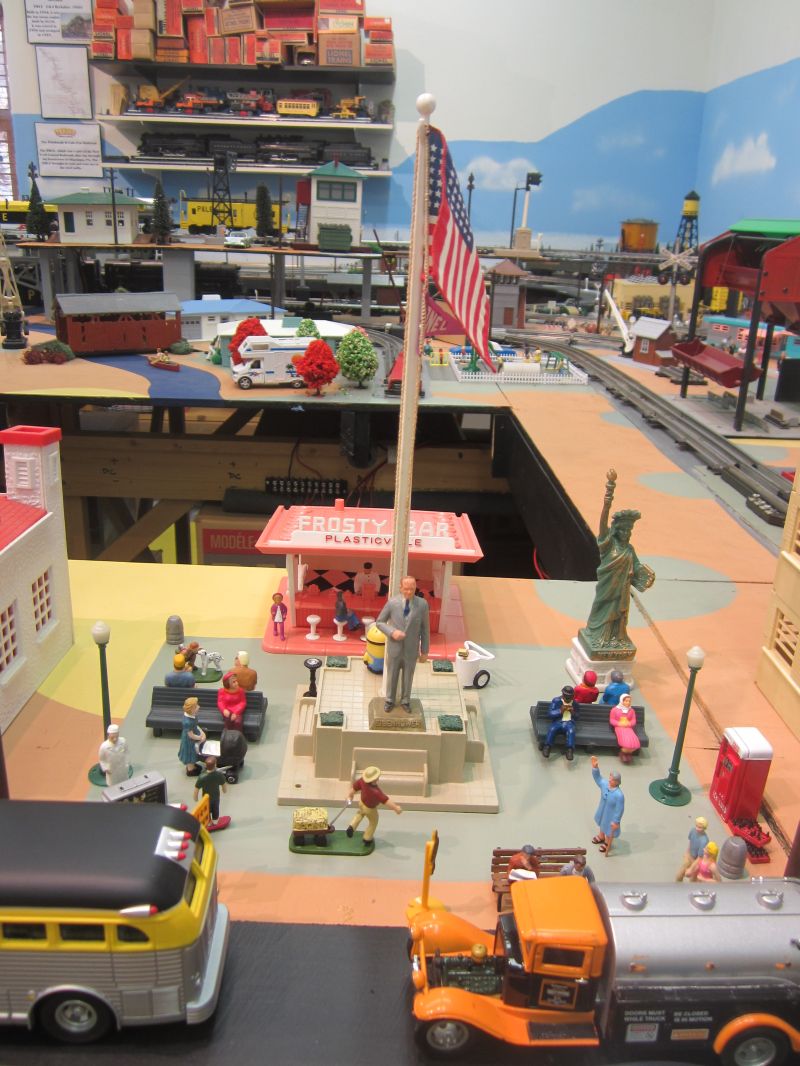 Urban park with a statue of President Eisenhower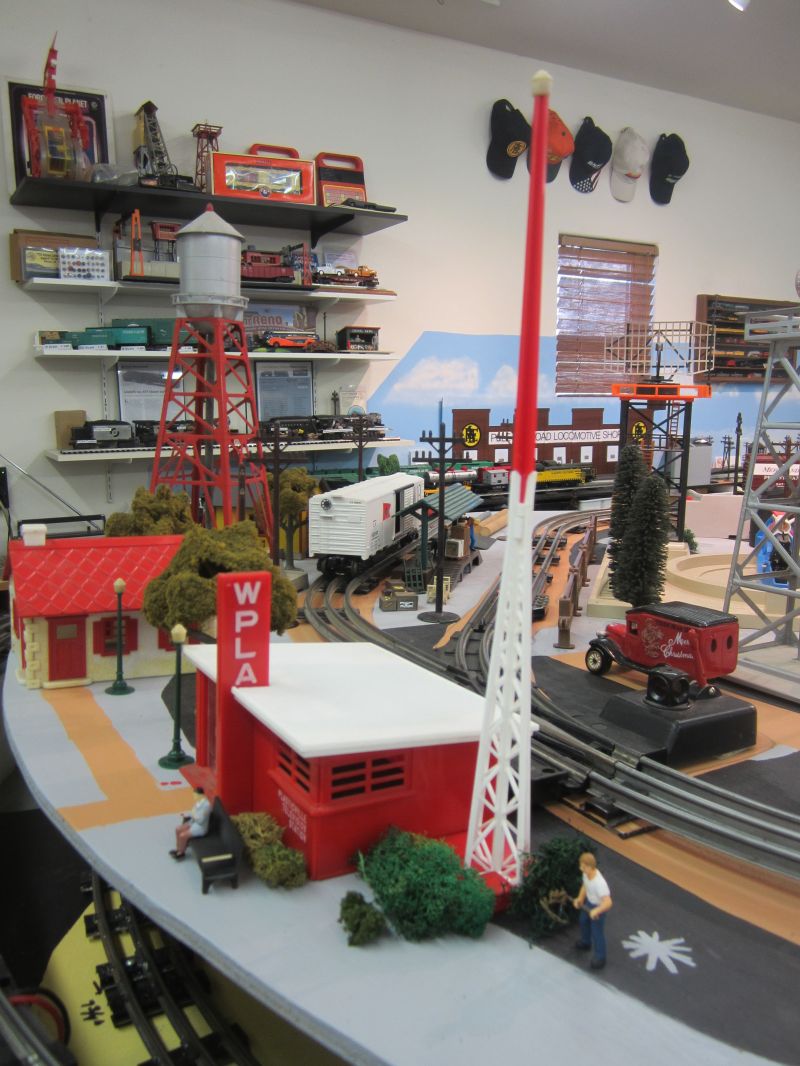 The local TV station
---
Tribute Displays
I've built a few special displays in my trainroom. Here are photos or links.
1969 Miss Olde Frothingslosh
1959 Pittsburgh Railway Company Special to the Allegheny County Fair staring Annie Oakley and Sky King
O Scale - S Scale - HO Scale - N Scale - Z Scale

I managed to find examples of box cars decorated for the P&LE or the NYC painted in jade green.
You see the relative sizes of the different gauges.
I'm looking for a Large Scale/#1/G Scale box car to update my display.
To hightlight the differences between postwar technology and current technology, I've displayed a postwar steam turbine made by Lionel along side a 21st century electronically controled steam turbine made by MTH
1946 Lionel #671LTS Steam Turbine
Open frame motor with double worm drive
E-Unit reverser
Voltage controlled speed
Smoke originally produced by an
ammonium
nitrate based (explosive) formula - synchronized with main drivers
(later changed to a secret waxy compound called meta-terphenyl)
Headlight
Air whistle in tender - air blown by open frame electric motor - remotely controled
Electromagnetically operated coupler
Original price about $35 ($524.63 in 2022 dollars)
2002 MTH #6200 Steam Turbine
Precision flywheel equipped can motor with single worm drive
Electronic reversing
Electronic locomotive speed control
Smoke produce by mineral oil - synchronized with main drivers
Constant voltage headlight
Electronic whistle and bell
Electomagnetically operated coupler
Original Price $199.95 ($324.87 in 2022 dollars)
---
Operation
As I mentioned earlier, my plan is to model (simplified) operation on my layout of a portion of the Pittsburgh & Lake Erie Railroad between Pittsburgh and Youngstown. First job was gathering information about the P&LE's operation. Reading about operation, I decided on operation using timetable & train orders. I found these two documents:

Sections on "Movement by Train Orders" and "Forms of Train Orders".
Also has sections on signals - "Manual Block System Rules" and "Automatic Block System Rules".

Employee Time Table

A cornicopia of information about day to day operation. Includes a timetable showing all of the trains running along the line. Other sections "Engine and Car Restrictions", "Speed Restrictions", "Railroad Crossings at Grade" (suprisingly, there were 11!), and what to do if a fatality occurs on the train or on the right-of-way.
On the back of the Time Table was a system map.
These documents would give me a of operating information from the late 1930's and 1940's which is the operational era I was aiming for. Next, I had to map this track layout onto my layout as well as I could. The P&LE was double tracked for a lot of its route and in many places there were four tracks. I could never model that in 1:48 scale. So, lets use our immagination.
I looked at the P&LE route map and asked - Could my layout be fitted to this map. After a lot of thought, I found that the answer was yes. I could model the portion of the P&LE between Youngstown and McKees Rocks - Called the P&LE Division. These locations would fit along the route - Youngstown (as staging tracks), East Youngstown, Campbell, Struthers, New Castle, College, Brady's Run, West Aliquippa, Aliquippa, Jones & Laughlin Steel Corporation - Aliquippa Works, and McKees Rocks (as staging tracks).
Here is the route map I came up with (click on the route map for a much larger version):
Certain switch tracks and crossovers will be covered with some sort of overlay so that those track are not used. The route then ends up as a point-to-point layout. But when I'm showing the layout to visitors, continuous running will still be possible.
Interchanges:
at Youngstown, interchange with the Erie RR to Cleveland
at Youngstown, interchange with the NYC RR to Astabula
at New Castle Junction, interachange with Erie RR to Sharon and Ferrona
at McKees Rocks, interchange with the B&O RR
From McKees Rocks, the P&LE runs to Brownsville and Connellsville (called the Youghiogheny Division). This portion of the route has an interchange with the Western Maryland RR at Connellsville and with the Monongahela RR at Brownsville.
---
The Layout as a Single Track

Here is a view of the layout. It is a drawing of the layout stretched out to be the single track road between McKees Rocks and Youngstown. Of course the P&LE was 4 track during it's heyday but you can only model so much in O-scale. Click on the thumb image below to download the full size drawing. In running the railroad "for real", this view represents the real world a little better. The main line is shown in red. There are three loops (including the
Lionel-Ives Block
) used to run the railroad in "open-house" mode.
---
Useful books:
Useful Micro-Mark Products:

Waybills and other forms to implement a freight car routing system.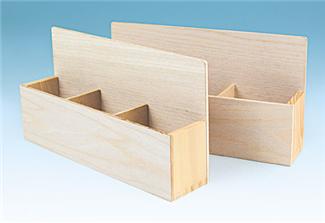 Additional Bill Boxes - you will need a slot for each siding or spur on your layout

Form 31 Train Order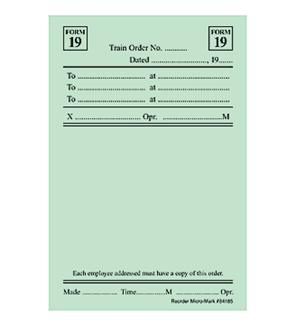 Form 19 Train Order
---
What's Next
Scenery! I'm not good at scenery. I have all the books and plenty of cardboard strips and plaster cloth. I have about a dozen rock molds that I bought at the
OERM swap meet
in 2011.

My first attempt at doing "real" scenry.
This is a small lake with fishermen and bathing beauties.
Base is 2" pink foam insulation. The brown wall is covered with Sculptamold. There is no water in the lake, boats and shark supported by posts.
The people are a mixture of MTH and Presser (true 1:48 scale).